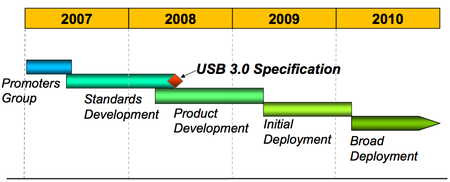 Intel has provided chipset makers with a draft
specification for a USB 3.0 eXtensible Host Controller Interface (XHCI), making good a promise it made a couple of months ago.
You might have thought that was the job of the chipset makers, but Intel's taken on the task itself to ensure, it hopes, the rapid roll-out of USB 3.0 – aka SuperSpeed USB. To that end, it's making the draft spec available under a licence that requires no royalties to be paid.

USB 3.0 is set to deliver data-transfer speeds of up to 5Gb/s, initially over tweaked connectors and wiring and, later, over optical links.