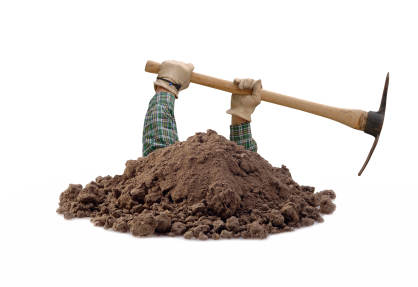 Email marketing has one of the highest returns on investment of any form of marketing. It's super cost-effective, easy to track and doesn't take a lot of setup. It all works "automagically."
But the only way email marketing works to its full potential is if you emulate the hard-rock gold miners of old: They'd dig and dig and dig, following that bright yellow gleam until they'd completely exhausted every seam, every lode, and every nugget in the mine. That commitment to getting everything they could paid off big time, and it can for you, too.
So how are you digging deeper to get emails from prospects? Ideally, every potential patient contact, regardless of the source, should result in you acquiring a new email address. For instance, do you have calls on your website? These can be requests for free reports and more information; responses to poll questions; and comments to blogs. If you're not keeping those email addresses on your list, why not?
Are you using social media to get email addresses? You could run contests on Facebook; get comments on Facebook and Twitter; and post before and after pictures on Pinterest, Tumblr and Instagram, and then get comments on them.
Those are all great, Internet-savvy, digital ways to get email addresses. But what about some analog options for digging deeper? For instance, do you get email addresses from potential patients who call or visit your office for information?
You should. That's another untapped lode, so to speak.
What about patients who come in for routine cleanings and exams? Do you get their email addresses? Remember: You should have the email address for every person who calls or steps through the door.
They are ALL prospects in one way or another.
Sure, they might call to ask if you do Invisalign, see children or do emergency dentistry. That makes them prime candidates for an email sequence. Existing patients may only want you to check for cavities, but they also may respond to a series on smile improvement.
If you give a speech at your local Rotary Club, make sure the sign-in sheet has everyone's email address and get a copy.
Do you have access to your church's email database? What about your local Chamber of Commerce or Better Business Bureau? Business owners are also potential patients.
If you have a chance to get someone's email address, get it! Email addresses are like treasure for email marketing. What's more, see if the people you contact know of OTHER people who could benefit from some information.
And let's not forget that email addresses are a key way to direct current and potential dental patients to your website, to your social media pages, or to your blog. Just by collecting those addresses, you can significantly ramp up the effectiveness of all of your marketing efforts.
The more email addresses you can get, the more you can maximize your email marketing potential. So dig deep, and keep digging, and your persistence will pay off.